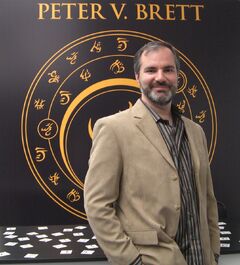 Peter V. Brett is the author of The Demon Cycle, which consists of five novels (a pentalogy): The Warded Man, The Desert Spear, The Daylight War, The Skull Throne, and The Core. He also wrote three novellas which take place in the The Demon Cycle universe: The Great Bazaar and Other Stories, Brayan's Gold, and Barren. A short story called "Mudboy", set in The Demon Cycle universe, appeared in the anthology Unfettered.
It has been announced that he is near to finishing[1] the first book, The Desert Prince,[2] of a sequel trilogy called I Am Olive[3][4] which takes place in the same universe after the end of The Demon Cycle's pentalogy. It became available for pre-order in August 2020.[5] On December 17, 2020, the release date was updated to August 3, 2021 according to Peter V. Brett's Twitter and personal website,[6][7] but was suggested to be less specific in a followup tweet on December 24, 2020.[8]
On February 17, 2021, Mr. Brett leaked the tentative name of the second book as The Hidden Queen.[9]
↑ 1.0 1.1 Twitter - @PVBrett: THE DESERT PRINCE is off to the Copyeditor! 10:01 AM - Nov 29, 2020
↑ goodreads - Ask the Author: Peter V. Brett: Peter V. Brett Aw, thank you so much! And yes! The Desert Prince will publish Spring 2021!
↑ Twitter - @PVBrett: That is the working title for the new trilogy, yes. 5:45 PM - 29 Jun 2018
↑ JABberwocky Literary Agency - New Peter V. Brett trilogy announced! 04/11/2018
↑ Penguin Random House - The Desert Prince By Peter V. Brett
↑ Twitter - @PVBrett: Are blogs still a thing? I posted about the release date for THE DESERT PRINCE
http://petervbrett.com/2020/12/17/desert-prince-release-date/
tl:dr — Aug. 3, 2021 US, Aug. 4, 2021 AU, Aug. 5, 2021 UK
1:57 PM · Dec 17, 2020
↑ Peephole in my Skull - Desert Prince Release Date by PeatB, December 17, 2020 4:53 pm
↑ Twitter - @PVBrett: Worldwide English of THE DESERT PRINCE will release 1st week of August 2021. Pub dates for translations are TBD but some publishers are working to release in that same timeframe. Will announce when I have confirmed dates.
↑ Twitter - @PVBrett: Just wrote the 1st ~700 words of The Hidden Queen, sequel to The Desert Prince. Doesn't seem like much. 700 words is a pittance. But the 1st words are always the hardest. They don't even have to be good in the 1st draft. They just need to break the damn ice.

The ice is broken.
↑ Twitter - @PVBrett: Kai'Sharum vibes. 12:29 PM - Dec 1, 2020
Reddit AMA 2018 Edition by Karen October 13, 2018 8:00 am
Dad Zone Podcast Interview by Karen December 5, 2017 8:00 am
Community content is available under
CC-BY-SA
unless otherwise noted.